The ActiveDEMAND Store Automation app will help you accelerate prospect purchases, deliver full attribution on your marketing efforts, and delight your clients with beautiful marketing emails.
ActiveDEMAND is an integrated marketing platform that is designed to help marketers reduce the number of marketing tools required to drive demand. By simplifying the marketing stack, ActiveDEMAND enables marketers to more efficiently drive demand for their products and services, better understand what is working and what is not, and drive brand consistency in marketing initiatives.
The ActiveDEMAND Store Automation app enables a seamless integration between your Shopify store and the ActiveDEMAND marketing automation platform. The ActiveDEMAND Store Automation app for Shopify enables you to drive demand for your products, understand what marketing initiatives are creating the most sales, and enables you to accelerate purchases with contextual content, cart abandonment sequences, and contextual popups and overlays. Specifically, ActiveDEMAND enables you to automate email responses based on purchase actions and abandoned carts, email prospects about specials and provides you the tools to drive store conversions (popups, dynamic contextual content, and more).
ActiveDEMAND Store Automation App Features
The ActiveDEMAND Store Automation for Shopify provides:
Injecting webforms into your store pages
Contextual content into your store pages
Contextual exit attempt popups
Trigger callbacks to ActiveDEMAND based on order state changes
Trigger callbacks to ActiveDEMAND based on stale cart detection
ActiveDEMAND is a complete marketing automation solution that provides such features as:
Dynamic store content
Web and Contact Forms
Exit Intent Popups
Marketing Automation
Landing pages
Appointment scheduling
Call tracking software
Email marketing
Marketing dashboards
Real-time lead insights
The ActiveDEMAND Shopify App requires JQuery
Most themes include JQuery, thus the ActiveDEMAND Shopify App does not include it. If your theme does not include JQuery, this article explains how to add it to your store:
Setup Steps
Step 1: Add the Shopify App to your store by going to
https://shop-automation.activedemand.com/
Enter your store URL in the form and click 'install'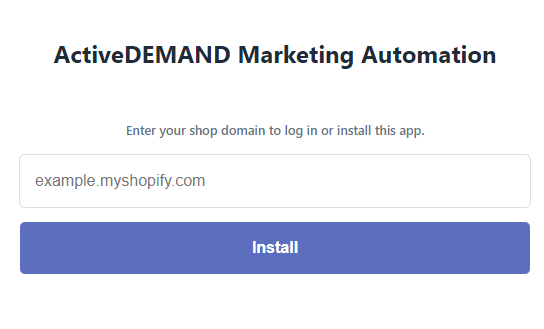 Note: Ensure you use your Shopify domain, i.e. mydomain.myshopify.com
Step 2: Click 'Install unlisted app'
Step 3: Connect to your ActiveDEMAND account: Click the appropriate response below

Step 4: In Shopify, Add the ActiveDEMAND Account API Key to the App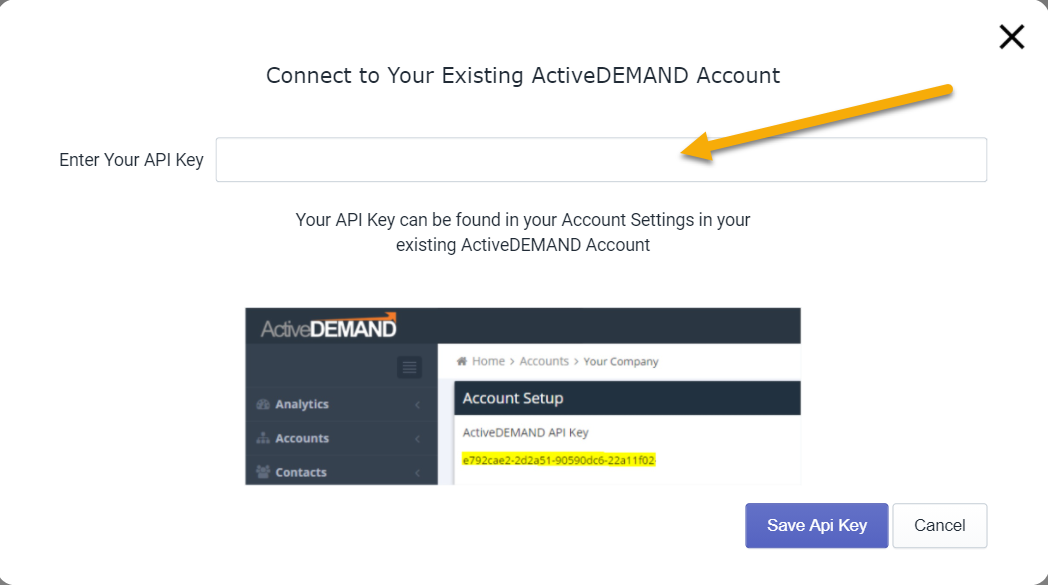 Step 5: In ActiveDEMAND: Create a web form
---
Deploying ActiveDEMAND Content on your Store
Any Web Form or Dynamic Content Block can be deployed quickly in your Shopify Store. Content created in your ActiveDEMAND account will automatically show up in the CONTENT tab in the ActiveDEMAND app in Shopify
Using Automation with your Store
You can trigger ActiveDEMAND automation based on triggers within your store. The interface between the trigger event and ActiveDEMAND is a Form object. When the selected trigger happens, you can post field data to a Form object into ActiveDEMAND to drive automations.

Using Cart Recovery automation with your Store
You can trigger automatons in AcitveDEMAND based on abandoned cart events.