First you will have to decide on whether you are going to create a Segment or a List of contacts you are going to bulk unsubscribe. A list can be Dynamic or Static. You can find more information about it here:
Contact List Building Basics (video)
Step 1: To create a List of contacts from the Contacts menu in ActiveDEMAND select "Contact Lists". You can make a new list of people or use a set of people that you already have.

Step 2: Select the contacts you want to bulk unsubscribe, add them to the list and save it.
Step 3: Go to All contacts (Contacts-All Contacts). Click the 'All Contacts' drop down to select your list or segment.
Step 4: Once the list or segment is selected and used to filter the 'All contacts' table, click the CONTACT EXPORTS button.

Step 5: Download the Excel file that you received via email (or click CONTACT EXPORTS again to see a list of all your recent exports to download).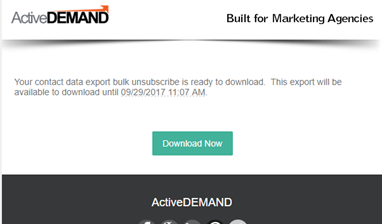 Step 6: In the Excel file change NO to YES in Unsubscribed column.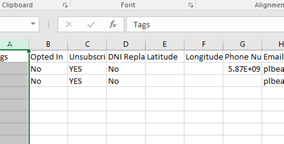 Step 7: Go to ContactsImport Contacts. Upload the edited file.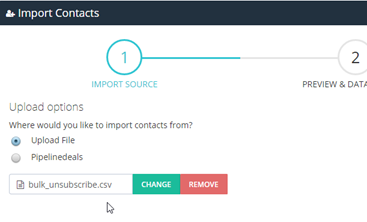 Step 8: Update the map column data for "Unsubscribed".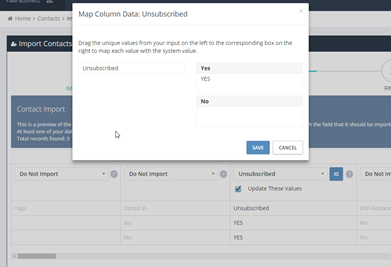 Use email as a Lookup column: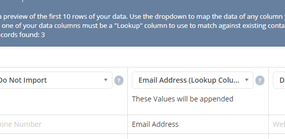 Click the START IMPORT button.
When you check your Contact Lists, this list of contacts will appear as Unsubscribed.
Why is it recommended to bulk unsubscribe contacts instead of deleting them?
ActiveDEMAND fully manages your bounced and unsubscribed contacts and technically ensures emails are not sent to those contacts that have unsubscribed. If you delete contacts that have been unsubscribed, ActiveDEMAND loses all collected data on the contact, including the unsubscribed state. It is thus possible to re-upload and inadvertently miss the unsubscribed state. If you are sending emails to prospects that have asked to be unsubscribed, this can negatively affect your sending reputation and, depending on the laws in your country, could result in large fines.