GA4 is the newest version of Google Analytics, the previous version was known as Universal. This brand new platform has some key differences from the previous Universal platform; including using brand new APIs, properties, and an event driven data model.
While GA4 is the new default, we strongly recommend you move to GA4
Since GA4 and Universal are completely different platforms, statistics between the platforms may vary.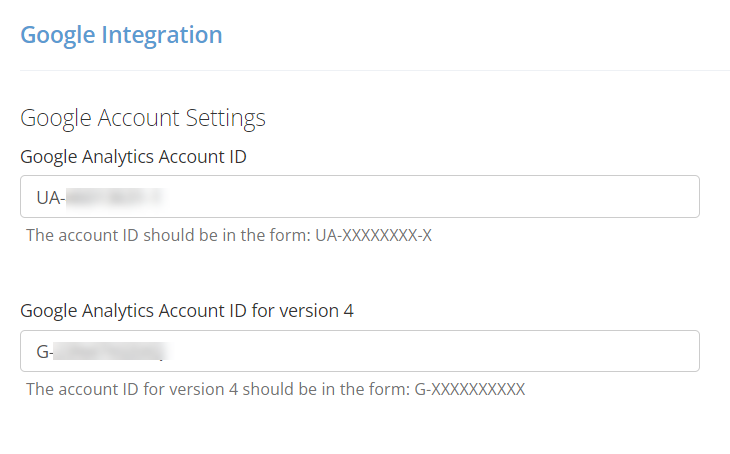 You can track landing page visit data to both GA Universal and GA4 from inside the Account Settings area in ActiveDEMAND.
| | | |
| --- | --- | --- |
| | GA Universal | GA4 |
| Property ID style | UA-XXXXXXXXX-X | G-XXXXXXXXXX |
| Post visit data to GA for AD landing pages | Y | Y |
| Fire the GA script on normal website pages | N* | N* |
| Display GA data inside AD widgets | Y | Y |
| Post preconfigured events to GA | Y | Y |
| Post custom events from AD workflow | Y | Y |
| Post transaction data | Y | Y |
*For normal website pages, we recommend you fire Google Analytics pageviews using script in the header, a plugin, or Google Tag Manager.
What do I have to update?
Account Settings -> Google Integration
Make sure your account is connected to your GA4 property
Google Event Posting
As the structure of events has changed, if you are currently posting events to Google using the Google Analytics UA Event workflow action

this will have to be replaced with the GA4 equivalent:

the configuration of this widget will have to change to align with your GA4 configuration.
Will I Need To Update My Dashboards And Reports?
No.
if you are currently using Google Analytics - UA widgets in your ActiveDEMAND account, the data source for your widgets will automatically be switched to use the nearest equivalent GA4 metrics/dimensions. You will not have to make any changes to your dashboards or scheduled reports, this will happen automatically. You will not have to do anything other than ensure your account is connected to your GA4 property.
Why has the numbers of that I am reporting changed?
Google's switch to GA4 was driven by the legislation around privacy. Thus data will be limiting the data that it returns if there are enough data points to ensure anonymity is preserved.
If you want all of the data, we recommend using ActiveDEMAND's native data widgets.
Unlike GA4, Google does not limit your access to the data you have collected on your website.